"I'VE JUST BEEN GLANCING AT YOUR SCREENSAVER only to find once again how much I love it. Even though I think I've seen all of the pictures, after more than a month I am still finding some I haven't seen. I never seem to get tired of any of them - and neither does anyone else in our family. They just seem to bring back our amazing memories!" - VH Oakland, California.

Hanauma Bay Super Screensaver / Slide Show
CD. $7.00 including postage (USA & Canada). For Windows 95 and up. 47 MB.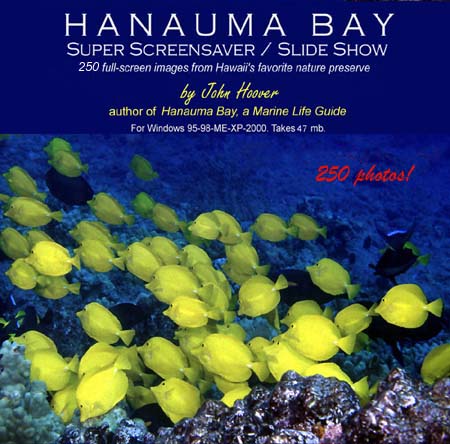 Hanauma Bay, on the southeast shore of O`ahu, is a partially submerged volcanic crater now thriving with marine life. Inner waters are calm, the fish plentiful and unafraid, and the setting spectacular. About three million people visit Hanauma each year. Many report that snorkeling there was the best thing they did in Hawai`i.
This screensaver features mostly underwater photos, but there are plenty of topside and aerial pictures too. Many of the images are from my book Hanauma Bay, a Marine Life Guide, but others have never been published before. Hanauma Bay is such a gorgeous place, you'll enjoy this screensaver even if you've never been there. It's the next best thing to visiting Hanauma! About 75 different species are depicted. All are identified, making this CD a great way to learn about Hawaiian marine life. The cover shows a school of Hawaii's justly famous Yellow Tangs. By the way, most of the photos in this screensaver (but none of the topside ones) are also included in my 500-photo Rainbow Reefs screensaver, which has pictures from all over Hawai`i. If you just want pictures of marine life, and you don't care about Hanauma Bay, that's the one to get.
SOLD OUT! No plans to make more. View replacement CD
15 sample images (out of 250)