HYBRID BUTTERFLYFISHES
Butterflyfish hybrids are easy to spot because the distinct patterns of individual butterflyfish species are familiar to most divers and snorkelers. Hybrids are rare, however, so if you see a butterflyfish that doesn't look quite right, try to get a photo. Butterflyfish are somewhat territorial, so if you don't have a camera with you or the shot doesn't come out, your chances of finding the same fish again are reasonably good.

In addition to the five hybrids shown below, the following hybrids might be seen in Hawaii: Threadfin x Lined Butterflyfish (Chaetodon auriga x lineolatus) / Blacklip x Teardrop Butterflyfish (Chaetodon kleini x unimaculatus) / Tinker's x Fourspot Butterflyfish / (Chaetodon tinkeri x quadrimaculatus).

Six of these hybrid butterflyfishes are illustrated and discussed on p. 276 of Dr. John E. Randall's Reef and Shore Fishes of the Hawaiian Islands. This large hardbound book (published by the Univ. of Hawaii Press in 2007) is the most authoritative and complete volume available on the fishes of Hawaii and contains the only photo I know of a Blacklip x Teardrop hybrid (taken, however, in the Marshall Islands).

Dr Randall add this note: "...Hybrids are rarely a perfect amalgamation of the color patterns of the two parent species. Often a hybrid resembles one parent more than another. This could be the result of the hybrid breeding with one of the original parent species."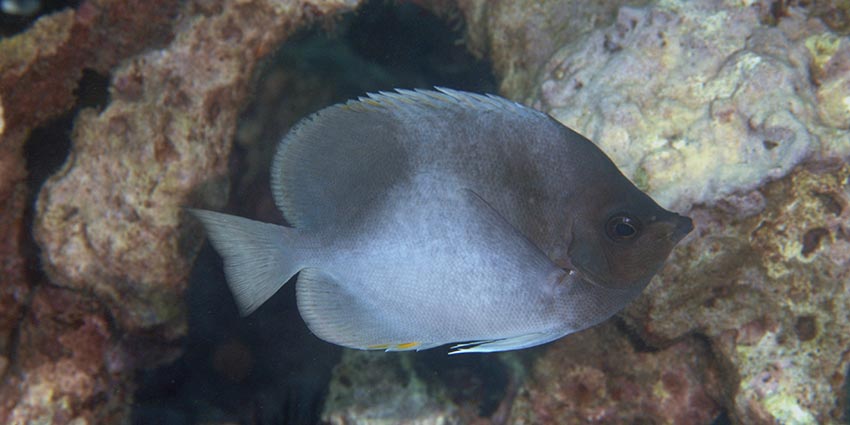 Hybrid Thompson's x Pyramid Butterflyfish (Hemitaurichthys thompsoni x polylepis) Possibly the only known hybrid in genus Hemitaurichthys.
Kelleen Lum discovered this fish off Kona, Hawaii, October 2014.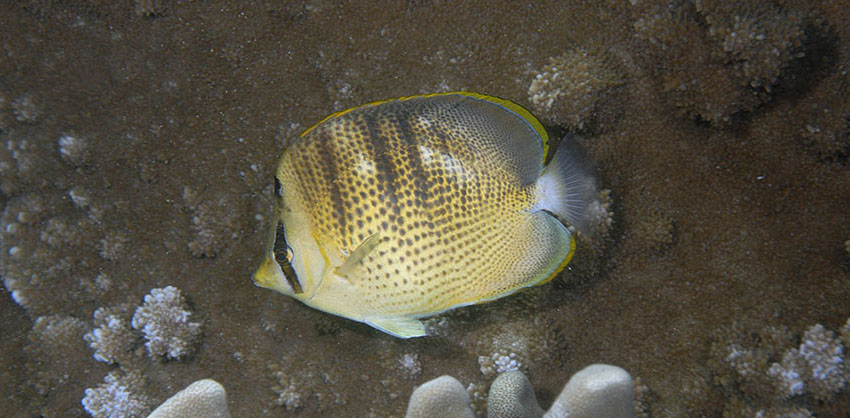 Hybrid Fourspot x Multiband Butterflyfish (Chaetodon quadrimaculatus x multicinctus), photo: Maui, April 2014.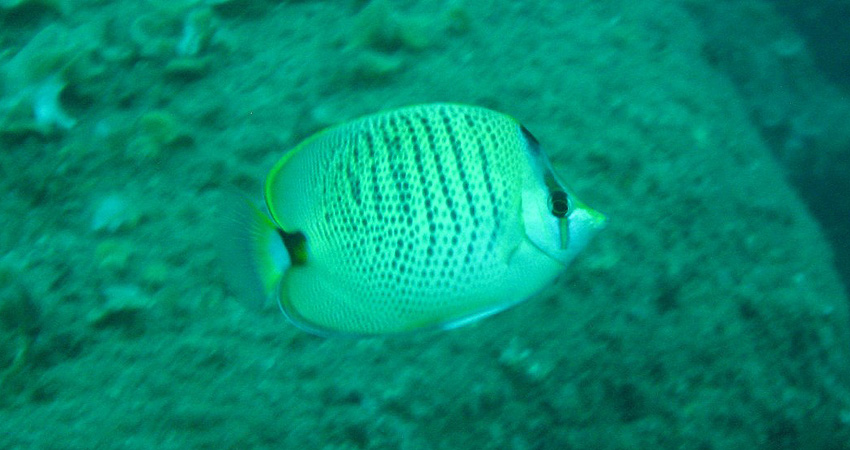 Hybrid Milletseed x Multiband Butterflyfish (Chaetodon miliaris x multicinctus). Photo by Justin Warner, Maui, July 2014.
Here is an online photo of another Milletseed x Multiband hybrid.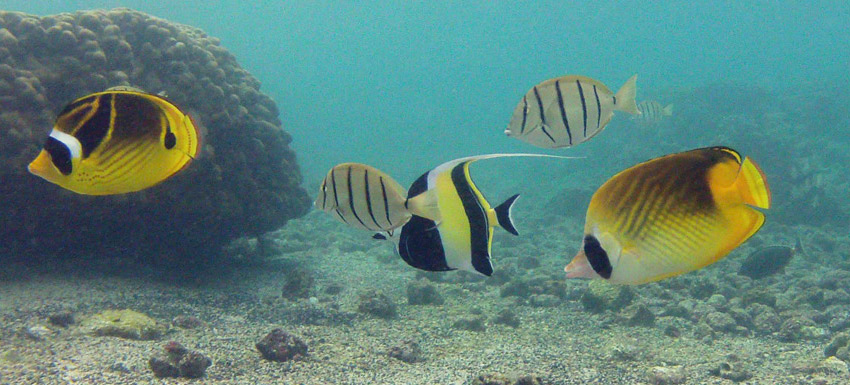 Hybrid Raccoon x Threadfin Butterflyfish (Chaetodon lunula x auriga) at right, with normal Raccoon Butterflyfish at left.
(photo: Matt Connelly). Below: the same fish swimming with a normal Threadfin Butterflyfish (photo: Glenn Cannon). Hawaii Island.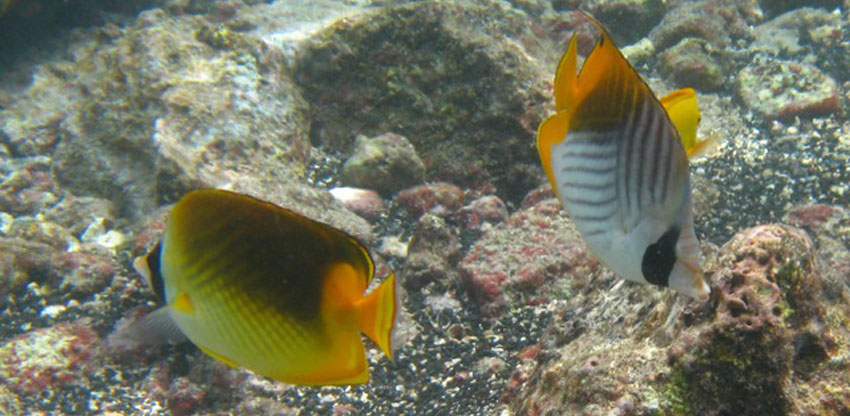 Hybrid Tinker's x Milletseed Butterflyfish (Chaetodon tinkeri x miliaris) below, left. Below right, a normal Tinker's Butterflyfish. This is a frame grab from a video by Rob Whitton, taken off Waikiki, Oahu, at about 150 ft. Here is an online photo of the same hybrid fish taken a year later.