Hanauma Bay, a Marine Life Guide to Hawaii's Most Popular Nature Preserve **out of print**
5x8 inches, 207 pages, 253 color underwater photographs. Soft Cover. Mutual Publishing, Honolulu, Hawaii. Published May 2002. Price: $13.95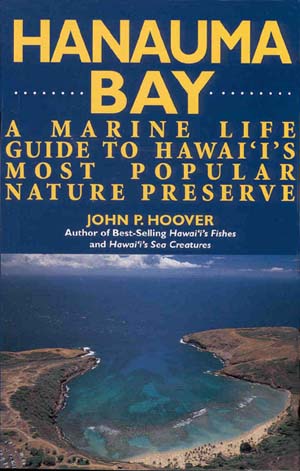 Would you like to snorkel with a sea turtle? How about swimming with a great big parrotfish? Or with hundreds of convict tangs as they browse the reef? These experiences can easily be yours at O'ahu's fabulous Hanauma Bay Nature Preserve.
Hanauma Bay formed perhaps 30,000 years ago on the southeast coast of O`ahu when two low-lying volcanic craters were flooded by the sea. Today the bay is an enormously popular marine preserve, home to many kinds of colorful fishes and other marine animals. This handy 5x8 field guide, features color photos and descriptions of 156 fishes, turtles, and invertebrate animals likely to be seen by snorkelers at Hanauma. It also includes chapters on the history and geology of the bay itself—one of the most interesting, beautiful, and conspicuous geological formations in Hawai`i. Safety tips, visitor information, and recommendations on when and where to snorkel are also presented. There is even a detailed underwater map of Hanauma, and a short section on scuba diving in the bay. (If you are a scuba diver, however, use my book Hawaii's Fishes for your fish ID guide.)
You will see a lot of fishes at Hanauma—incredible fishes of all shapes, colors and descriptions—but you may not see much coral. Why not? Click for more info on Hanauma's reef.
This guide will make your experience at Hanauma richer, and you can use it other snorkeling spots in Hawai`i.
Purchase info: buy from Barnes &Noble Amazon
THIS BOOK IS NOW OUT OF PRINT (but you can probably still find used copies online)