HANAUMA BAY, O`AHU - BASIC VISITOR'S INFORMATION (from Hanauma Bay, a Marine Life Guide)
Hanauma Bay is a marvelous place to watch marine life. The inner waters are calm, the fish plentiful and unafraid, and the setting spectacular. (You will be snorkeling in a drowned volcanic crater!) Do not expect a lush, colorful coral reef such as you might see in the Caribbean or Western Pacific, but do plan to have a great time getting up close to some fascinating and colorful animals.
To get you started, here is some basic information:
• Hanauma is pronounced "ha-NOW-ma."
• Hanauma Bay Nature Preserve is about 10 miles east of Waikiki just off the main coastal road (Kalaniana`ole Highway, Route 72). It is open every day except Tuesday, generally from sunrise to sunset (the hours vary with the seasons). For the exact opening and closing times call the recorded information line at 396-4229.
• Plan to get to the bay early. The parking lot often fills by 10 AM and sometimes even by 9 AM! You will be turned away if it is full. By getting an extra early start you will avoid long lines at the ticket booth and snorkel concession.
• If you aren't driving to the bay, catch the number 22 bus from Waikiki. It starts at 8:15 and runs every half hour down Kuhio Avenue. For more information call TheBus at 848-5555.
• Parking at Hanauma Bay costs $1.00 per car and there is a $5.00 per person entrance fee to go down to the beach. The entrance fee is waived for children under 13 and for residents of Hawai`i with identification.
• All first-time visitors must watch a 7 minute video on conservation before going down to the beach. If you plan to return to the park another day, ask to have your name registered so that you don't have to watch the video again.
• Trams run down to the beach and back for those who don't want to or cannot take the 5 minute walk. There is a charge.
• You can rent masks, fins and snorkels at the beach, but for the best fit (and to avoid lines) bring your own.
• The waters just off the beach are shallow and protected. You don't have to be a good swimmer to enjoy Hanauma and you can see quite a few fish just by wading.
• The water outside the inner reef is often rough and choppy. Visitors who wish to snorkel beyond beyond the inner reef should wear fins and be experienced, confident ocean swimmers.
• Feeding the fish is no longer allowed at Hanauma Bay. Please do not walk on top of the reef.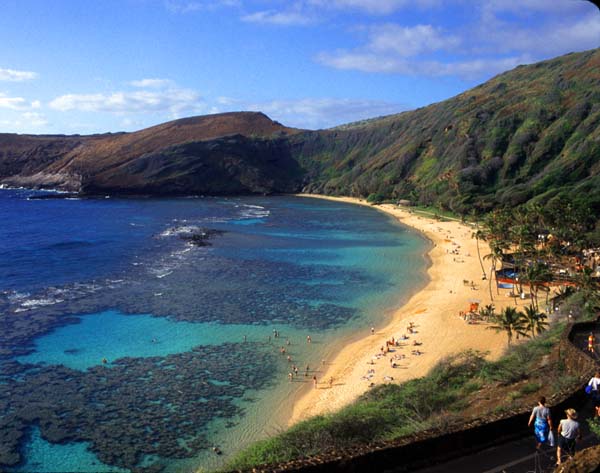 This is what you'll see as you walk down to the beach in the morning.