Sample species description from Hanauma Bay, a Marine Life Guide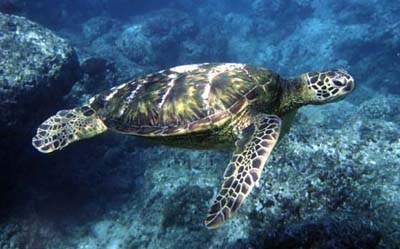 GREEN TURTLE · honu
Chelonia mydas
Green Turtles are the most widespread and numerous of Hawai`i's marine turtles. Adults feed mostly on algae, generally grazing along shore in the early morning and late afternoon. It is common to see them at Hanauma Bay, both inside and outside the reef. When not feeding they often rest, seemingly asleep. Active Green Turtles must surface to breathe every few minutes; when resting they can remain underwater for two hours or more. Turtles tend to rest in "traditional" areas, either directly on the reef or in caves and under ledges. One such area (called the "Turtle Beds") lies at the end of a Finger Coral reef on the Witch's Brew side of the bay at a depth of about 30 feet. Here about half a dozen turtles can usually be found lying in individual depressions in the coral. Traditional cleaning areas also exist where turtles come to have surgeonfish (usually Gold-Ring Surgeonfish) eat the algae off their shells. Green Turtles in Hawai`i are unique in that they sometimes bask on land during the day. Few other sea turtles do this. Basking behavior is most common in the Northwest Hawaiian Islands and on parts of the Big Island, such as the black sand beach at Punalu`u. It has not been seen at Hanauma. By basking, turtles conserve energy and avoid predation by sharks.

When male Green Turtles reach maturity at about age 25 they grow a conspicuous long heavy tail. Females and immature males have short tails. Most Green Turtles in Hanauma Bay are immature. Upon reaching adulthood, Green Turtles in Hawai`i migrate periodically to their nesting beaches, which are almost always at French Frigate Shoals, an atoll in the Northwest Hawaiian Islands. After mating offshore, females crawl ashore at night to dig a pit and deposit their eggs. Females do not nest every year, but when they do they may nest up to five times. After hatching in about two months, baby turtles remain at sea for about a year feeding on jellyfish and other surface-dwelling animals.

Green Turtles in Hawai`i have been protected under Hawai`i State Law since 1974. In 1978 they were listed as threatened under the federal Endangered Species Act. It is illegal to take or harass them. If you see a turtle while snorkeling at Hanauma (you probably will) swim gently or just float and it will likely ignore you and allow you to get quite close. Never pursue or attempt to touch a sea turtle. Although their brown shells may be greenish from a coat of algae, they get their name from the greenish color of their fat. (In years past they were widely hunted for food, and turtle soup used to be a delicacy.) They reach a length of about 4 ft. but the average adult in Hawaiian waters is probably about 3 ft. Maximum weight is probably about 400 lbs. The species occurs worldwide in warm seas. Photo: Hanauma Bay, O`ahu.