The Ultimate Guide to Hawaiian Reef Fishes, Sea Turtles, Dolphins, Whales, and Seals
6x9 inches, 400 pages, 965 color photographs, 396 species. Published by Mutual Publishing, Honolulu, Hawaii. $24.95
Published October 2008;. 2nd printing (revised) Aug. 2009; 3rd (revised) Nov. 2010; 4th (updated) Mar. 2012; 5th (updated) June 2013; 6th (updated) Aug. 2014; 7th printing Nov. 2016.
The cover photo by Mike Roberts shows Yellow Tangs "cleaning" algae off a Green Sea Turtle

NOTE: Did you notice that the cover on Amazon or in a store doesn't exactly match the one below?
Mutual Publishing decided to refresh the cover colors in June 2013. I'm nostalgic, so I've kept the old cover here.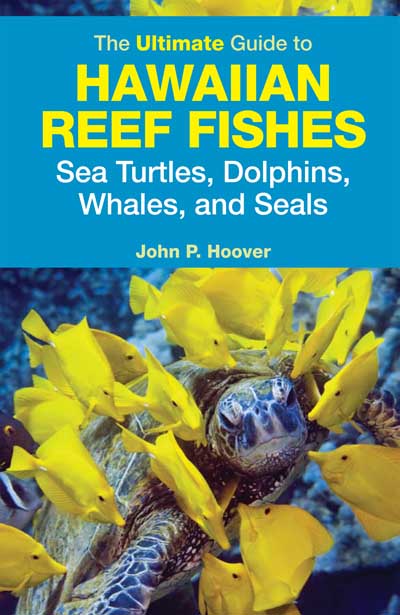 This is my latest book. Although based on my earlier book Hawaii's Fishes, a Guide for Snorkelers and Divers (which remains in print), it has twice as many pages and contains more pictures, more stories, about 120 more fish species. In short, it's an upgrade designed for advanced snorkelers and divers--and those who want to be. Note: The Ultimate Guide omits the 12-page chapter "Where to Snorkel and Dive" that appears in Hawaii's Fishes.
As well as fishes, the ten whale, dolphin, and turtle species seen most often in Hawai`i are included. Indispensible for anyone interested in the sea in Hawai`i, this is the ultimate identification book for Hawaiian marine vertebrate animals.

But there's more. It is also a gold mine of behavioral information, legends, trivia, and fun facts. Have you ever wondered why spinner dolphins spin? Or how manta rays mate? (see pages 373 and 235) What does it feel like to be stung by a lionfish? (see page 250) Or attacked by a shark! (see page 267) Do you know the smartest fish on the reef? Or why eels tie themselves in knots? (see pages 114 and 196)

Crammed with stories, picture galleries, sidebars, and 965 full-color photographs, this book takes the concept of a fish identification guide to a whole new level.

Here's a book review by Susan Scott in the Honolulu Advertiser and another from Reefbuilders.com

Purchase information
If you live in Hawai`i you can buy a copy at dive shops and bookstores. Walmart sometimes carries it at a discount. Costco too, at even greater discount.

If you live outside Hawaii you can order online from Amazon. If you buy a used copy, try to get the latest updated printing (Aug. 2014) (wondering about the 2 different covers? See note at top of page)
If you own an iPhone or iPad, consider my apps Scuba Fish Hawaii and Fish ID Hawaii.