"This little book is bursting at the seams with good, solid information... Throughout the book [the author] subtly teaches you Hawaiian history, culture, language, and customs.... Some of the photos will leave you gasping in disbelief--surely no fish could be so vivid!" - Freshwater & Marine Aquarium Magazine

"It's hard to imagine more useful information in such a small book, and useful to both residents and visitors alike.... The color printing is gorgeous. How Mutual Publishing can deliver this much color at the price is a mystery." - Maui News

Hawaii's Fishes, a Guide for Snorkelers and Divers 2nd edition by John P. Hoover
6x9 inches, 207 pages, 430 color photographs. September 2007. Mutual Publishing, Honolulu, Hawaii. $16.95
5th printing (updated) Aug. 2014 contains numerous updates and corrections. See "Updates" below.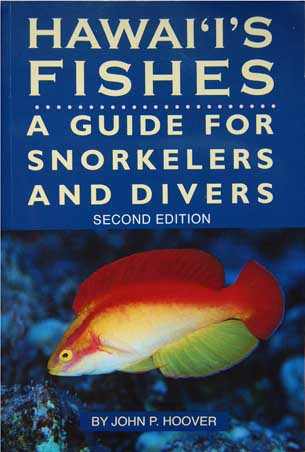 This is my best selling book. First published in 1993 (with the subtitle "a guide for snorkelers, divers, and aquarists"), it went through 11 printings before this totally revised 2nd ed. came out in September 2007. Hawaii's Fishes 2nd ed. describes and illustrates the 265 fish species most likely to be seen by snorkelers and divers in Hawai`i. It includes pointers on where to find a particular fish, what it eats, its size, old Hawaiian lore, and much more. Fish families are organized alphabetically for easy reference.
The introduction includes an expanded 12-page guide to Hawaii's best snorkel and dive sites, with maps and driving directions. And for this new edition I also added several pages of detailed information on Hawaii's ever-popular sea turtles. What else is different? Well, the title has changed slightly as I did not include aquarium information in the new edition. I did the layout myself in order to crop the photos optimally, correct the color, and cram in as much information as possible. I also increased the number of species, added lots of pictures of juveniles and/or alternate color forms, and updated many of the scientific names. It's a better book all around.
People often ask whether I took the photos myself. Yes, underwater photography is how I got started with all this—I've become addicted to diving and taking underwater pictures! But I also used the work of other top Hawaii fish photographers

Reviews Sample species accounts Updates

Cover: male Hawaiian Flame Wrasse in display.



Purchase info: If you live in Hawai`i you can buy Hawaii's Fishes 2nd ed. at dive shops and bookstores. Costco often carries it too.


Outside Hawaii you can order from Amazon or Barnes & Noble.
If you buy a used copy, be sure it is at least the 2nd ed. (2007). The latest printing (August 2014) has been extensively updated.

If you own an iPhone or iPad, consider my apps Scuba Fish Hawaii and Fish ID Hawaii.

Click on a fish to find out what it is!

---