BLUE OCELLUS OCTOPUS
Octopus sp.

Hawai`i has 15 known octopus species and this does not seem to be among them. The first one I saw was on the wreck of the Mahi off leeward O`ahu. Lisa Kasnell alerted me to it and sent a photo showing a distinct bluish ring. It was fist sized, stretched out, maybe a foot across, she said. We visited the Mahi and it was still there, in the opening of a pipe sticking up from the deck. We got it out and clipped a tiny DNA sample from a tentacle tip which we sent to Crissy Huffard at UCLA Berkeley. I thought it might be a young Octopus cyanea ("Day Octopus") but the DNA eventually came back as related to cyanea, but different
Not long after, I saw another in a deep cave-like crevice off the Lana`i Lookout, O`ahu, at a depth of about 25 ft. and managed to get a photo (above). Though I've been back to the same crevice several times, I never saw it again. The next sighting was in August just off the beach at Makua, O`ahu, under a ledge in about 8-10 ft. (see photo below). On the basis of these three sightings, it seems these octopuses are out during the day but remain in dim sheltered areas and do not roam about as Octopus cyanea does. If you see / photograph any interesting behaviors that might be useful to whoever in future describes this animal scientifically, don't hesitate to pass them on!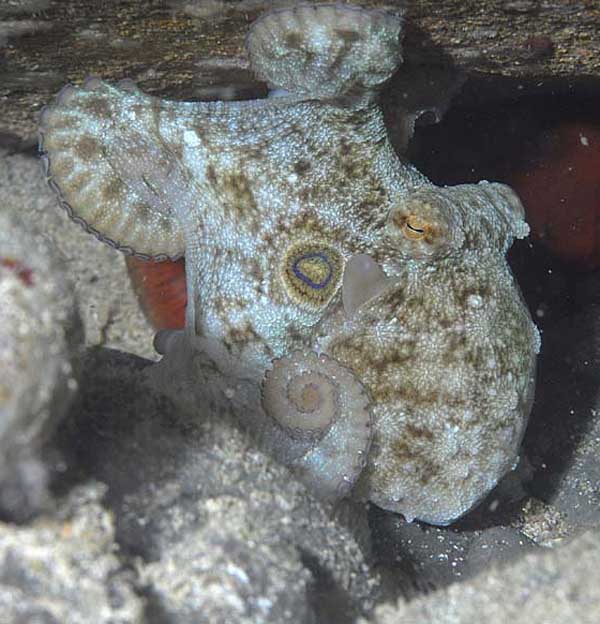 ---