---
"John, your pictures are absolutely awesome. I simply sit there and am not productive at all ...simply looking and learning about these fish. Thank you...." - E.S. Eatontown, New Jersey

"I just wanted to let you know how much I am enjoying the Hawaii fishes screensaver. Having just returned from a trip to Hawaii, with 700+ digital photos of my own, I was looking for a palm trees-and-sunsets type of screensaver. Yours intrigued me more, however, and I had no knowledge of your books. Your photographs are amazing. I particularly like reading the Hawaiian and scientific names and the habitat information. Count me as another very satisfied customer! - A.F. Farmington, New Mexico
I've just been glancing at your screensaver only to find once again how much I love it. Even though I think I've seen all of the pictures, after more than a month I am still finding some I haven't seen. I never seem to get tired of any of them - and neither does anyone else in our family. They just seem to bring back our amazing memories!" - V.H. Oakland, California

I am still getting so much pleasure from the screen saver. It is just enchanting! Thanks for your wonderful work. - V.L.S. Rough and Ready, California
Don't start this CD unless you have a few free hours. You will definitely be fascinated. Time will pass unnoticed. You will smile and be glad and be unable to drag yourself away from the screen to actually go out and look at live fish. - J.B. Kihei, Maui

RAINBOW REEFS HAWAII Super Screensaver / Slideshow
500 colorful underwater photos of reef fish, turtles, dolphins, nudibranchs, and other facinating marine animals
CD in folding cardboard wallet. $7.99 including postage (USA , Canada, Mexico). For Windows 95 and up.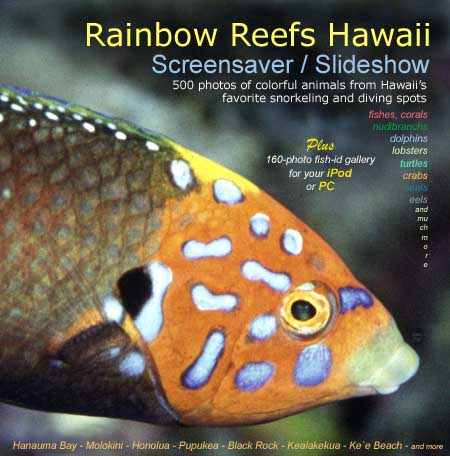 Hawaii's undersea world has long enticed visitors and residents alike, and wildlife is the main attraction. Nowhere else in the Islands can such a bounty of fascinating and colorful animals be seen at such close range. Most are fishes. Coming in all sizes and shapes, they are everywhere—on the bottom, at the surface, under the sand, in caves, even inside other animals. Their vibrant colors are astounding, their shapes sometimes strange beyond belief. Many have developed elaborate mechanisms of defense—balloons, poisons, hypodermic syringes, electric shocks. Others mimic stones, coral, sponges, plants, crabs, each other—anything to survive and multiply. There are fishes that can fly and fishes that can't swim. Some are as big as a city bus, others the size of a pin. The variety is endless.

You can also play this screensaver as a slideshow, directly from the CD. In either case, all animals are identified, making this CD a great way to learn about Hawaiian marine life. (Does that cover fish really exist? Yes, it's an amazing Psychedelic Wrasse, found only in Hawai`i.)
In addition to the screensaver / slideshow, there is a fish-id gallery to help you identify the fish you see while snorkeling or diving. You can even upload these photos to your iPod! Put the iPod in a waterproof case--they make them--and take it down with you for instant fish ID. A fishPod--what a concept!
Released August 2006 - Read a review from the Maui Weekly
NO LONGER AVAILABLE - SORRY :(
$7.99 including postage (USA, Canada, Mexico) Downloads or mailing to other countries can be arranged: email me

Please note: This is not a DVD product. It requires a Windows PC. The images are cropped for standard monitors, but they will stretch to fill any size screen. The screensaver can also be set to display images at their original size, with no stretching.




15 more sample images (out of 500)