Hawaiian Volcanoes in action Super Screensaver / Slide Show (288 pictures)
CD in case. $7.99 including postage (USA, Canada, Mexico). For Windows 95 and up. .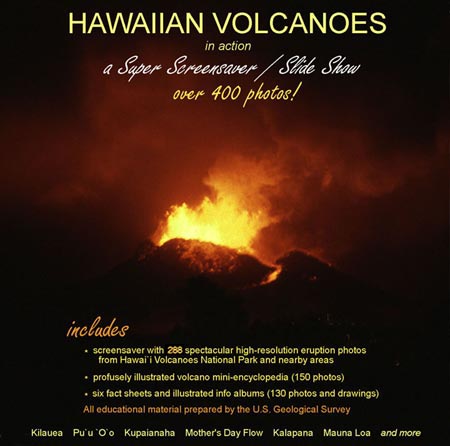 Kilauea, in Hawai`i Volcanoes National Park, is one of the most active volcanoes in the world. Over the years the Hawaiian Volcano Observatory has amassed an incredible collection of photos, and the best are on this CD! See hot lava fountaining, flowing, cascading, dripping and oozing. View lava tubes, lava lakes, lava pouring over cliffs, lava entering the sea, playgrounds ruined, buildings in flames, and geologists running for their lives. The Pu`u `O`o eruption, which began in 1983 and is still going on, is the subject of most photos, but the ultra-spectacular 1959 Kilauea Iki and 1969-70 Mauna Ulu eruptions, as well as the 1984 Mauna Loa eruption and others, are also represented. There are 288 images in the latest version of the screensaver.
This CD also includes 36 high resolution wallpaper images drawn from the screensaver and an illustrated mini-encyclopedia of volcano terms, historical and geological information on the various eruptions, safety advice for lava watchers, and other educational material in web browser format. All educational material was prepared by the U.S. Geological Survey. The educational material brings the total number of photos on the CD to over 400. (Most of the educational material is available online, but because of download time with slow connections, viewing from the CD can be faster and easier.)

Read a review from the Maui Weekly

SOLD OUT no plans to make more
Please note: This is not a DVD product. It requires a Windows PC. The images are cropped for standard monitors, but they will stretch to fill any size screen. The screensaver can also be set to display images at their original size, with no stretching.
Downloads or mailing to other countries can be arranged: email me