English Gardens - Kent and the Cotswolds
Screensaver / Slideshow by Marcia Stone
63 photos. CD in case. $9.00 including postage (USA & Canada ONLY). For Windows 95 and up. 26 MB.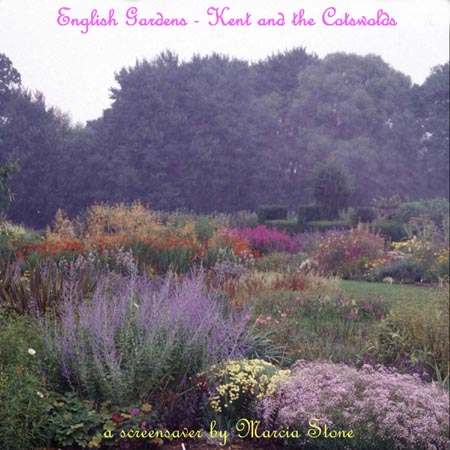 Gardening is the national pastime of the English, and their gardens are the loveliest in the world—at least if you're an anglophile! Let my wife Marcia take you on a tour of the finest gardens in Kent and the Cotswolds. Her beautifully composed photographs perfectly capture the charm of Waterperry Gardens, Sissinghust Castle, Barnesley House, Hidcote Manor, Packwood House, and more. If you love England, this CD is for you. It's the next best thing to being there.
Cover: Waterperry Gardens, Oxfordshire
NO LONGER AVAILABLE - SORRY :(

$9.00 including postage (USA & Canada ONLY)
plain silver CD in sleeve only - printed covers & CDs sold out.
Stay tuned for Vol. 2 — Devon and Cornwall !!

15 sample images (out of 63)