The Marquesas - Magical Islands of French Polynesia
100 images of Nuku Hiva and Ua Pou, underwater and above. CD in case. $7.00 + $5 postage (USA). For Windows 95 and up.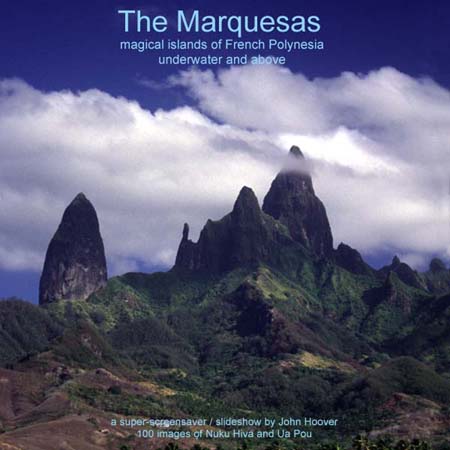 The Marquesas are spectacular to say the least. Below the waves they are just as interesting as above. What an incredible place to visit! But face it, you probably never will. So why not take a virtual trip with this unique screensaver? But let me warn you--half the images were taken under water. If you don't like fish, this CD might not be for you. If you do like fish, note that twelve percent of the fish species in the Marquesas occur nowhere else, and some are real beauties.
This screensaver is not yet available.
On the cover: the fairy-tale island of Ua Pou
Sample images not yet available